Newsletter - October 2021
SKYLINE LAW ROCKS – LAST TICKETS REMAINING!
Tuesday 23 November 2021 6:30pm Brunswick Ballroom
(Existing Tickets are Transferable)
We're back in session and our Law Rocks Battle of the Bands for Skyline event is proceeding as planned! With limited tickets remaining, make sure to join us for the ultimate concert of the year! – supported by our partners Law Rocks, produced by our brilliant Patron Justice Lex Lasry AM QC, Supreme Court Judge extraordinaire – also spiritual heart and lead drummer of the Lex Pistols, and hosted by legend himself Red Symons!
Book now for the battle between four rock bands made from the Victorian legal glitterati:
The Lex Pistols
Buncha Counts
The Padres
The Rip Offs
SKYLINE'S CLASS OF 2021 GRADUATION AND CLASS OF 2023 INDUCTION CEREMONY
Hear from our CEO Jane and Arnie about this wonderful event HERE.
 
2pm Saturday 27 November 2021.  Another inspirational ceremony is in the making – don't miss out! Students and Alumni are preparing as we speak for you! Make sure to join us!
2022 SELECTION SETS RECORD HEIGHTS
Fifty-four Victorian Government Schools were invited to nominate their resilient high ability Students to enter the Skyline Program next year. Over 230 nominations were received from 38 Schools with 114 applications shortlisted from 34 Schools!

We are delighted to accept 83 Students from 34 Schools to join Skyline, making a total 2022 Student cohort of 165 Students with 90 identifying as Girls (55%), 74 as Boys (45%) and with one identifying as Non-Binary. This takes the total number of Students supported by Skyline since inception to 482.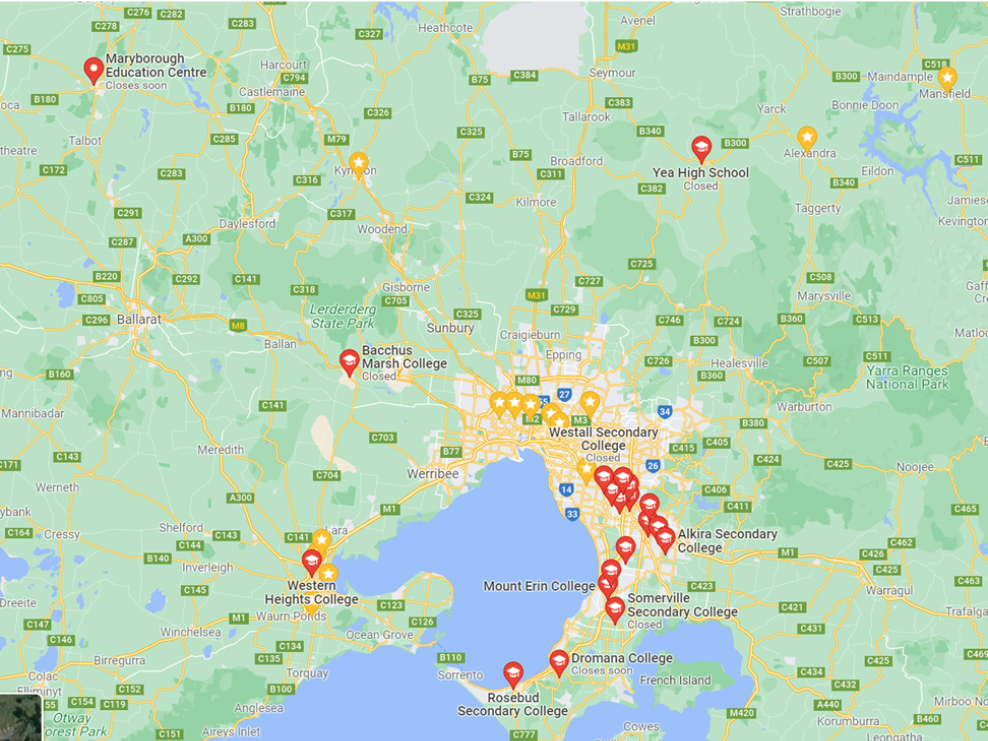 Congratulations to all our Students and Schools! We are delighted to be working in partnership with the following Schools:
GREATER MELBOURNE REGION
1. Braybrook SC
2. Collingwood College
3. Maribyrnong College
4. Melbourne Girls' College
5. Mount Alexander College
SOUTH-EAST REGION
6. Alkira SC
7. Carwatha College P-12
8. Dandenong HS
9. Hallam SC
10. Hampton Park
11. Keysborough Acac
12. Keysborough Bank
13. Lyndale SC
14. Narre Warren P12
15. South Oakleigh College
16. Westall SC
SOUTH REGION
17. Carrum Downs SC
18. Dromana College
19. McClelland College
20. Mount Erin College
21. Rosebud SC
22. Somerville College
GEELONG REGION
23. Geelong HS
24. Grovedale
25. North Geelong SC
26. Northern Bay P-12
27. Western Heights College
NORTH WEST REGION
28. Bacchus Marsh College
29. Kyneton SC
30. Maryborough Education Centre
31. Melton SC
NORTH EAST REGION
32. Alexandra SC
33. Mansfield SC
34. Yea HS
Announcing New Team Member – Skyline Alumna Shehelah Ousman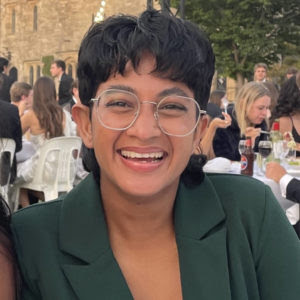 We are delighted to advise that Shehelah, further to a rigorous selection process, has been appointed to the management team as a part-time Program Manager Assistant where she will be reporting to Program Manager David Parncutt supporting delivery of the Program experience to our Skyline Students.
As a Skyliner herself, Shehelah will play such a critical role in our Team enabling vital insights and understanding to guide how we empower our resilient high ability Students' through their VCE and support transition to higher education and career of choice. Please join us in congratulating Shehelah!
Leader in Residence – Education
This month, Dr Elizabeth Hartnell-Young as Leader in Residence – Education shares her thoughts on:
Confidence and Capability: A recipe for life
Skyline workshops … forced me to get out of my comfort zone, which changed my old quiet, shy and hesitant person into a person who has more confidence, is brave and will participate in anything challenging without a doubt.
A healthy sense of self-confidence means having a balanced view of yourself. You can read the full article HERE.
Skyline's social enterprise, Skyline Hatch, leverages over 15 year's proven track record in Skyline delivering a unique blend of academic and wellbeing support to optimise outcomes for VCE Students.
2022 Weekly Tutoring  – Secure your place now!
Skyline Hatch offers weekly tutoring in Maths, English, English as an Additional Language and Chemistry, delivered in an engaging and interactive online format.  Our awesome tutors are recent VCE graduates, including Skyline Alumni, who aced their VCE and can relate to the challenges of VCE.
"These tutoring sessions have helped so much, making study actually fun" – 2021 Skyline Hatch Tutoring Student
Hear more about what makes Skyline Hatch tutoring special from Hatch Tutors, Susan and Theano, and Students, Danny and Prabh, here.
Sign up for Hatch Services HERE!
Principals' Forum
Facilitated by the fabulous Jeanette Cheah (CEO & Founder, HEX), we recently held the inaugural Skyline Hatch Principals' Forum. Our extraordinary panel featured Roger Page (Principal, Nossal High School and Hatch Advisory Team member), Susan Ogden (Dandenong High School, Skyline Education Foundation & Hatch Partner School), Adrian Ferdinand (Skyline Alumnus & Hatch Lead Tutor) and Leah Davidson (Skyline Alumni Development Manager and Hatch EQ Facilitator).
Principals and leading educators across the state joined an engaging discussion about how schools are collaborating with Skyline Hatch to reshape post Covid education delivery to support Students and Teachers.  If you missed the forum you can view it here.
To find out more about how Skyline Hatch can work together with your school please email sally@skylinefoundation.org.au
YOUR LEGACY - CONSIDER A BEQUEST
When Skyline's Founder Educational Psychologist the late John S Cheetham established the Skyline Education Foundation, he did so, understanding the power of education to make a lasting difference in the lives of high potential young people with the intellectual ability to make a major contribution to the world, but little or no ability to change the circumstances of their background.

By making a Bequest in your Will, you can help to ensure Skyline's impact into the future. Find out more – https://skylinefoundation.org.au/make-a-bequest/

Campion Education is yet another example of the publishing community's generosity – spreading the load across major publishers with in-kind donations of textbooks and stationery and then collating per Student per school for distribution. Proudly supplying Australian Schools and Students with the widest range of publishers, books, digital, stationery and art supplies for more than 23 years.
Generously delivering innovative and accessible psychological services and professional mental health support for Skyline's Students and Alumni.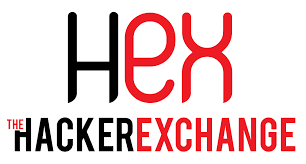 Generously awarding our Highly Commended and Graduating Students. HEX exists to launch epic careers and unlock captive talent, creating a generation of leaders who take action to create the world they want to live in. HEX is at the intersection of education and innovation, delivering a new kind of learning – experiences that are immersive, up-to-date, and based in the real world.
Over three years Brian and Virginia through Rachel at Mutual Trust have been instrumental in helping Skyline to achieve remarkable success. With their support of fifteen Student positions annually we have been able to embark on a period of growth, expanding our reach to engage more VCE Students across metropolitan and regional areas and launch Skyline in rural and regional Victoria. 

We are now on a pathway towards supporting 200 Skyline Students annually and building a community of 800 Skyline Alumni by 2027. We are so extremely grateful for the difference Brian and Virginia have made and extend warmest appreciation to Rachel for such wisdom in guidance through often challenging terrain.
Yet again MECCA M-Power has stepped forward with incredible support for Skyline Girls enabling another ten Girls to join our transformational 2 year Program. But that is not all as MECCA Staff have worked so hard to raise further funds to support our Digital Girls through Sweat for Skyline with $10,500 raised from fundraising efforts across the so generous MECCA workforce.
In the context of this year's International Day of the Girl we are so delighted that MECCA Staff can elevate our Girls with digital access for their education that they need. And further still …. thanks to the extraordinary MECCA Team and their fundraising expertise, thirty eight MECCA Skyline Hatch Bundles have been made possible, each valued at $2,000 enabling access to a Year of Tutoring in one subject, along with Head Start, SAC and GAT preparation Masterclasses, Exam Hack and the End of Year Exam Revision Series. These will be awarded to additional high potential VCE Girls beyond those already in the Skyline Program! Thank you MECCA and your brilliant Team of empowering change-makers!
Thanks to our generous donors, the number total Skyline Students have now risen to 482! Today we have approximately 260 Alumni and 132 Students in our transformational VCE Program, through which last year, like most, 100% of our graduates successfully completed their VCE.
See HERE for more details
We extend immense appreciation to our generous partners:
Skyline acknowledges the Traditional Owners of our lands and we pay respect to elders past and present. We recognise Sovereignty was never ceded and regret that there is still no Treaty. 

At Skyline Education Foundation Australia, we are dedicated to equality, and value diversity and inclusion.