VALE
It is with great sadness that we advise that Ann Hollingworth passed away on Tuesday 13 April at Cabrini Hospital, comfortable and surrounded by her loving family. 
Our heartfelt condolences are extended to our Ambassador The Right Reverend the Honourable Dr Peter Hollingworth AC OBE and family members. Ann was a familiar face at Skyline events, and enjoyed being with the students as they celebrated their education milestones. She will be sadly missed by the students and broader family of Skyline.
To show their appreciation to Cabrini Health, Peter and his family encourage donations to its Foundation. 
https://cabrinifoundation.com.au/donate/
SKYLINE'S IMPACT CONTINUES – THE FUTURES COMMITTEE AT WORK
The Futures Board sub-committee has published its report on learnings from COVID last year! Read HERE.
A reminder of the valuable work of the Futures Committee through its three Round Table forums to date – we are grateful to our many collaborators who have contributes their expertise and insights to propel our capacity for impact. You can view the outcomes here – Round Table 1 Outcomes, Round Table 2 Outcomes, Round Table 3 Outcomes.
SKYLINE'S ANNUAL RECEPTION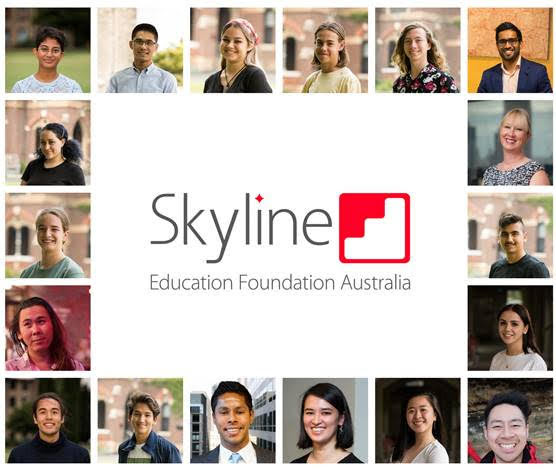 On behalf of our Chair, Katrina Reynen and the Board of Directors, CEO Jane Sydenham-Clarke invites you to Skyline Education Foundation Australia's 2021 Annual Reception.
In the context of the pandemic, we are holding a virtual Annual Reception in Zoom on Tuesday 27 April 2021 commencing at 6:00pm to 7:15pm.
Annual Reception Zoom Link:  https://skylinefoundation.org.au/annual-reception 
We were hopeful of hosting our event in the offices of our generous partner, UBS in Melbourne's CBD, but this seems unlikely at this stage due to COVID-19 restrictions.  We are immensely grateful for the support of UBS in so many areas of our impact.
Our Students and Alumni will host the Annual Reception and I promise that you will be, more than ever, inspired by their potential, resilience and wisdom as they share their stories and hopes for the future despite the additional challenges COVID19 has thrown at them.
Please join us to give your support so that together we can empower our extraordinary high ability, gifted and academically talented Students and Alumni to become resilient leaders in the face of their social and economic adversity. Your support means the world to them.
We have a very special occasion planned for you and are hoping that you can be with us.
We are honoured to have so many gifted and talented exemplars in the Skyline Program. It gives us great pleasure to share just a glimpse of some of our amazing students.
Kristy C. – Year 12 Student, Keysborough Secondary College
Kristy applied to the Skyline Program to prove to herself that she had the abilities to succeed in VCE. She is a high achiever, and this year was selected as Student Voice Captain for Keysborough Secondary College!
Being a leader means boosting fellow young leaders' confidence and working with them to enhance their skills – Kristy C.
Kristy says "being a leader means boosting fellow young leaders' confidence and working with them to enhance their skills". Over the past few months, has planned and coordinated events that unite her entire school community.
Kristy recalls some of the most 'iconic events' which united her school were Valentine's Day and Harmony Day. "What I love about my role is not only does it allow me to work with teachers and students to improve their experience at school, but I also get to give back to my community in countless ways".
Elijah S. – Year 12 Student, Carrum Downs Secondary College
Elijah is one of our Students lucky enough to be born with instant recall memory.
What he knows is encyclopedic! This factor alone would make Elijah first choice on your team in a trivia quiz, particularly one on history.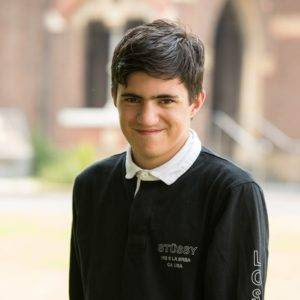 This year Elijah is studying legal studies, business management, English literature, and history (Chinese and Russian Revolutions). Asked whether he has any issues with answering exam questions, Elijah says not, "If anything, I'm told I provide too much information."

In future Elijah would like to study law, potentially commercial or constitutional law.  To this end, our good friends at law firm Lander & Rogers will organise an opportunity for Elijah to spend a day in the office and shadow young graduates.
WIN-WIN OPPORTUNITY WITH OUR ALUMNI!
It's wonderful to see the world opening up and what that means for our Alumni as they seek work experience and internship opportunities.

We are working hard behind the scenes to connect organisations who could benefit from our outstanding Alumni talent, resilience and incredible work ethic. An absolute win-win for both parties.

Reach out if you know of an organisation which might like to support Skyline whilst injecting fresh clever ideas, motivation and drive into an organisation. Win-win!
ALUMNI LEADERS FILLING THE GAP

It's great to have the voice of alumni represented in the wonderful sessions we run in our online group sessions.
Steven Banh, 2019 Alumnus and member of the Skyline Alumni Leadership Team (SALT), has created a mini-series on Transitions for our May CONNECT LIVE sessions.

He is passionate about expanding how we perceive opportunities like the 'gap year' and how preconceptions can sometimes keep us from embracing or even seeing opportunities. Loving the leadership emerging in our SALT team!
SKYLINE HATCH!
Hatch has been continuing to grow and provide inspiring learning opportunities to more VCE students.
Our talented tutors have been sharing their tried-and-tested tips, tricks and strategies to help students maximise SAC marks in our school holiday SAC preparation masterclass series this week. And, with the new school term beginning next week it's the perfect time for students to sign up to weekly tutoring with Hatch – we offer tutoring in VCE English, Maths and Chemistry and the first session is complimentary.
In March, Leah Davidson ran a Life's Toolbox workshop for Hatch with Dandenong High School's Year 12 Leadership team. Alongside Stress Hack and the Five Year Plan, these mindset and emotional resilience programs are bringing valuable new insights and life skills to students.
Here's some feedback on the experience:
"Thankou for the Life's Toolbox session you ran with our students yesterday. It was a great session that had a strength based focus and provided insights for the students on how to maximise their opportunities through acknowledging and addressing what holds them back.
Your manner with the students was very supportive and they enjoyed the interactive and discussion based components. We are very luck to have worked with you and I look forward to seeing how the students use these skills in the coming months to support their growth and progress."
– Mark Dewar, Associate Principal, Dandenong High School
"10/10 I loved the theory and topics we discussed. I also liked how different analogies were used to explain concepts. We touched on topics we have never been exposed to or really even thought about. A very, very unique program to anything else I have ever attended." 
– Dandenong High School Student
---
"9/10 The program is inspirational and gave me a lot to think about with my future/myself. The message is backed up by science that you present, such a message can change a person's life! 
– Dandenong High School Student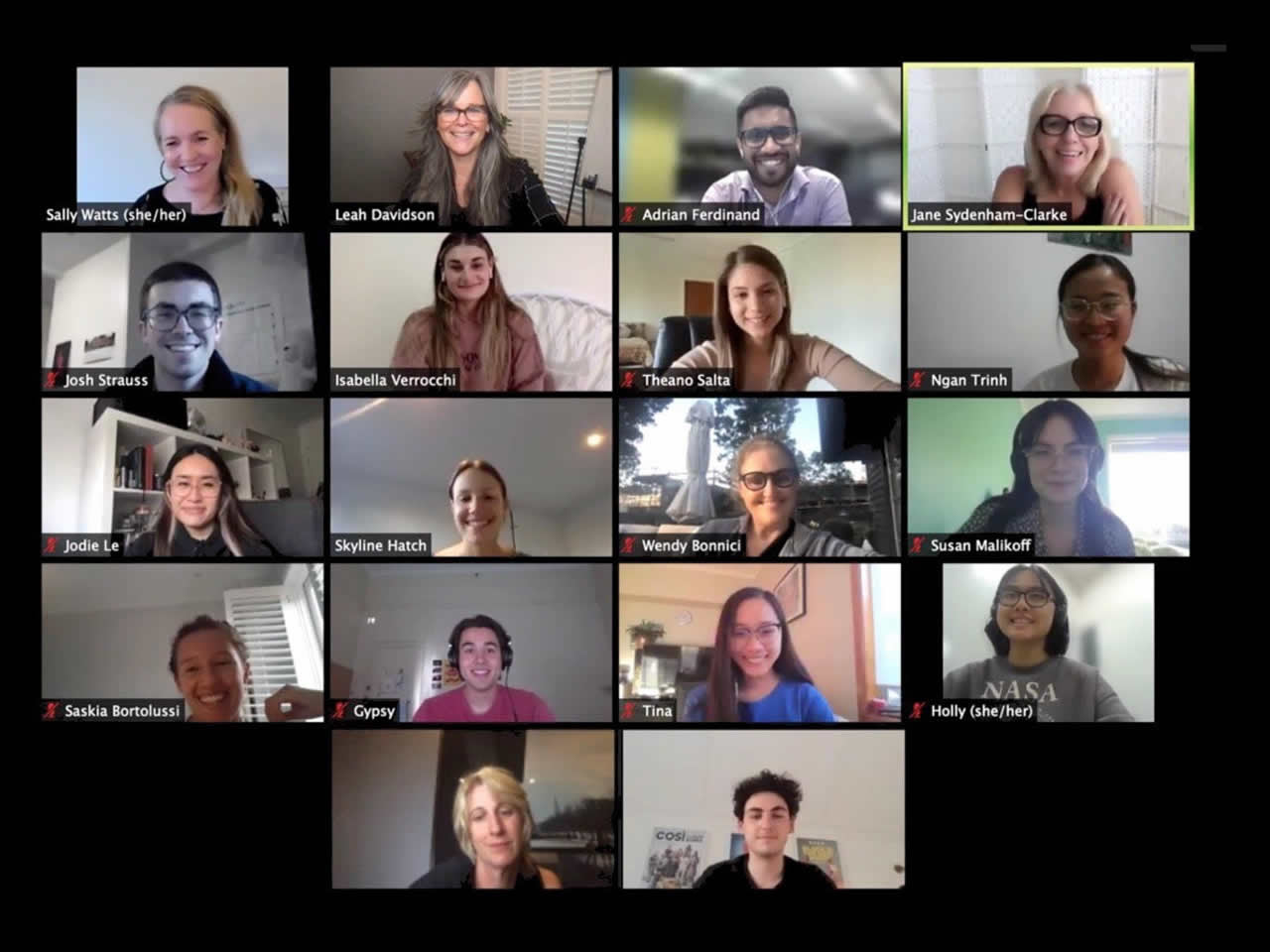 The Hatch team also came together last week for a fun meet and greet session and to compete for the title of inaugural Hatch quiz champion. Alice Nowicki, Hatch emerging tutor in Further Maths, took home the honours. Awesome work Alice!

SEE HERE FOR HATCH SERVICES!
Gratitude is extended to our supporters – without you we are unable to continue our critical work.

Thanks again to our amazing donors Skyline has supported 399 Students to date with a 94% retention rate. Today we have approximately 260 Alumni and 134 Students in our transformational VCE Program!
The Dawn Wade Foundation is Private Ancillary Fund established in 2017 and focuses its funding in the areas of Education as well as the Environment, Overseas Aid and Geelong beneficiaries to honor the community where which the Wade family originated.

Skyline was awarded a major grant from The Dawn Wade Foundation in 2020 and was fundamental to the success of our transition to online delivery during a year of great uncertainty and anxiety for our students.

With the support of The Dawn Wade Foundation, we were able to support the needs of all 103 Skyline Students across 26 schools in metropolitan, regional, and rural Victoria, and our growing Alumni community. We were immediately positioned to address the need for internet access, laptops, software etc. enabling Skyline to distribute resources to our resilient high-ability Students and Alumni at this really challenging time.

We are immensely grateful to each and every one who supports us.